AMC 600 receives Lloyd's Register certification
Get robust and reliable control for your marine applications
By the end of Q2 2023, our 600 series of programmable automation controllers, the AMC 600, will receive Lloyd's Register Type approval, and more classification society approvals are forthcoming. Read more about the advantages of this compact, powerful, and reliable device, and start designing future-ready marine control solutions today.
Already proven in numerous land applications, our compact, powerful, and reliable AMC 600 is set to receive Lloyd's Register Type approval by the of Q2 2023, making the programmable automation controller ideal for a wide range of demanding ship and rig control solutions.
The AMC 600 is a Linux-based controller with high-density EtherCAT I/O modules that you can program using CODESYS. Capable of starting even at -40° C, it features a compact footprint in a rack-based concept suitable for both main and distributed I/O nodes. We have decided to continue the tried-and-tested robust metal housing and conformal coated I/O modules with snap-locked connectors for worry-free stable control solutions. For more information, visit the product page.
The AMC 600 will receive Lloyd's Register and DNV GL approval in 2023, and Bureau Veritas approval is expected as well. Get a proven product platform ready to deal with environmental and mechanical challenges like vibrations and a wide temperature range!

At DEIF, we are used to supplying and maintaining our electronics products over several decades, and the 600 series is expected to be in service for many years. This makes it a trusted product platform in terms of supply, sourcing, operation, and future maintenance.

We are adding new modules to the 600 series to help you design future-proof solutions: Prepare for a quad-core 64-bit CPU module with enhanced cyber-security features and additional high-density I/O modules with 32 digital inputs, especially relevant for example for alarm systems.

In 2024, we will introduce test for compliance with relevant parts of IEC 62443. Our new CPU module and operating system to be released in 2024 are targeted to withstand up to IEC 62443 Security Level 3.

We can deliver your AMC 600 globally within a few weeks thanks to our in-house manufacturing capabilities and effective and dependable global logistics setup.
Where can you use the AMC 600?
The AMC 600 can be used for a wide range of applications, from simple to complex and from centralised to distributed control. Examples include alarm systems, bow thruster and steering gear controls, propulsion control, ballast pump systems, battery or fuel cell management systems, and scrubber, crane, or other auxiliary control. The only limits are your requirements … and your imagination.
Contact us to learn more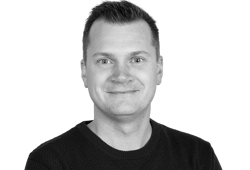 For more information on the AMC 600, visit the product page – or contact me directly to learn more about the controller and its forthcoming marine approvals!
Lasse Aagaard Vejrup
Product Manager - Codesys Applications
+45 9614 5771
|