"Continue as now": NPS of 69.9 indicates satisfied DEIF customers
A Net Promoter Score (NPS) of 69.9 indicates that our customers are satisfied with the support they are getting. We will use the detailed NPS results to make an already good customer service offering even better.
If you want to know what your customers think of your service, why not simply ask them? This is the philosophy behind Net Promoter Score (NPS), a market research metric designed to gauge customer satisfaction. NPS has become a standard benchmark and is a useful way of gauging your performance against competitors and industry benchmarks – and DEIF is doing quite well: As of January 2023, our global NPS is 69.9.
This is a very good result for an engineering company offering products and services in the B2B market. According to B2B International, average NPS scores for B2B companies are 55 in North America, 38 in Europe, and 22 in Asia Pacific.
How do you calculate your NPS?
In an NPS survey, respondents are asked whether they would recommend your company, product, or service to a friend or colleague, rating the likelihood on a scale from 1 to 10. The NPS is then calculated by simply subtracting the percentage of detractors (respondents providing ratings below 7) from the percentage of promoters (respondents providing ratings of 9 or 10). Results can range from -100 to 100, although these extremes rarely occur in real-world surveys with many respondents.
Survey handled by external experts
DEIF's NPS surveys and calculations are handled by customer relationship experts nps.today. They asked more than 6,000 randomly selected global DEIF customers to participate. 648 customers, or approximately 10%, responded; of these, 510 were promoters, and only 57 were detractors. But there's more to the good result than the impressive overall rating.
High response percentage
"Our response percentage is quite high," says Business Support Department Manager Marianne Betzer Viborg of DEIF. "People actually take the time to respond, and this in itself is a positive sign. Also, we have promoters in all categories – from Customer Care who are usually the first point of contact and handle offers and order confirmations, to Service & Support and RMA who take care of business when our customers are facing technical challenges or problems. In short, we're getting a good score, even in categories where people can, understandably, be impatient or dissatisfied. This shows that our customers really appreciate the help and support we provide."
Comments provide additional detail
Comments from the respondents provide additional detail on what our customers consider important. One German-speaking customer sums up the key points as quick reaction, on-time delivery, good quality, and supportive staff, while a Norwegian customer cites quick replies and good, understandable explanations. A Spanish-speaking customer praises DEIF for excellent attention and feedback regarding their request, while an Australian customer focuses on quality products, local currency pricing, and sales staff willing to go the extra distance in solving any issues.
Making good customer service even better
The most important thing about NPS, of course, is not the numbers but the use you make of them, and we intend to use the results to make an already good customer service even better.
"The results indicate that we have satisfied customers, but we do not intend to rest on our laurels," says Marianne Betzer Viborg. "We take the comments from detractors and promoters alike very seriously. We will use constructive criticism to develop and offer even better service to our customers everywhere in the world."
For a large group of DEIF customers, however, it would appear that business as usual will do just fine. In a final comment, one French-speaking customer sums it up very briefly: "Continuer comme actuellement" – continue as now. It probably doesn't get any shorter or better than that.
Looking for DEIF support? Click here!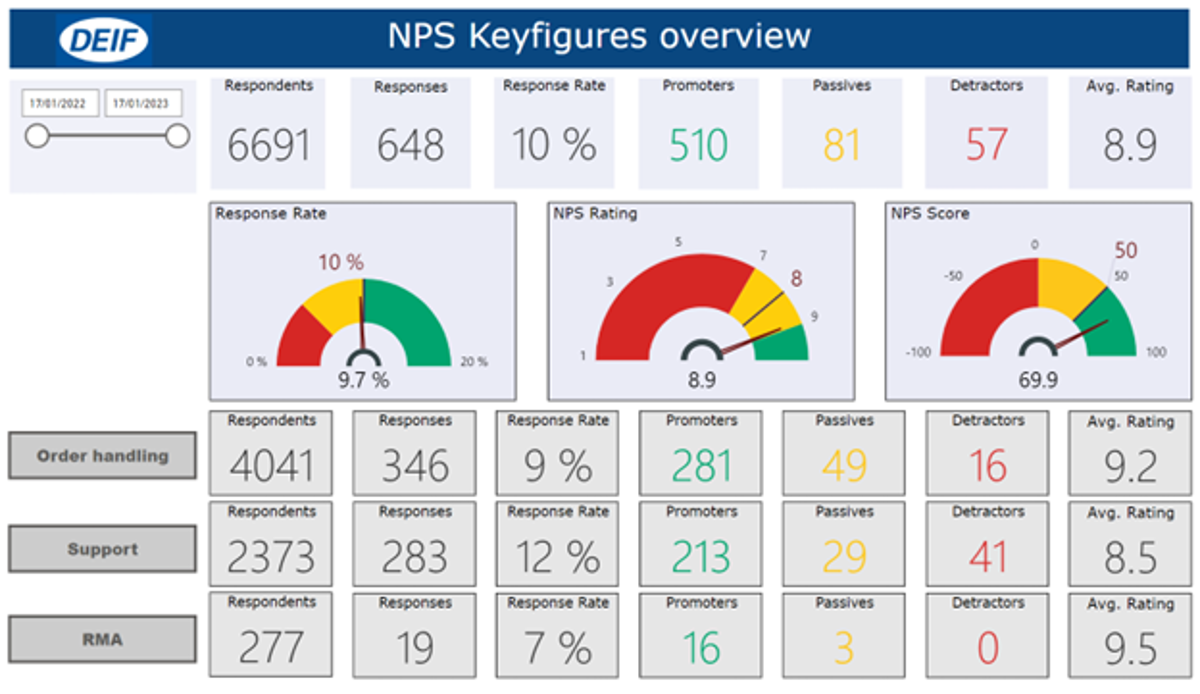 A 10% response rate and promoters across all three categories indicate that DEIF customers on the whole are very satisfied with the service we offer
Contact us

Daniel A. Sandgaard

Department Manager