Whitepaper: achieve carbon neutrality with hybrid eco-systems
If you are running a data centre, you are probably wondering how you can make your site carbon neutral but still deliver the uptime your clients expect. The data centre industry has committed to achieving carbon neutrality by 2030, reaching 75% of this goal already in 2025, so the clock is ticking.
Combining reliability and sustainability
Increasing the use of renewables instead of relying on mains power and fossil-fuelled gensets is an obvious way of reducing your climate impact, but even though renewables have come a long way, they are still inherently unstable. You can't power a server rack from a PV panel on overcast days, but does this mean that you still have to choose between sustainability and reliability?
Fortunately, the answer is no: With hybrid eco-systems, you can reduce climate impact while ensuring constant power. This is achieved by adding and prioritising renewables but backing them up with other power sources, and by running those power sources more efficiently. Download our FREE whitepaper now from deif.com to see how it works, and read on to get some of the main points!
What is a hybrid eco-system?
Hybrid power is a solution covering a given load demand using a combination of two or more different power sources. When renewables are included in a hybrid solution, it is often called an eco-system. Examples of hybrid eco-systems include a wind or PV plant with a battery energy storage system (BESS), or a setup that combines many power sources: mains power, gensets, several renewables, and a BESS. Hybrid eco-systems are ideally suited for reducing climate impact because you can configure them to run in a climate-friendly way. For example, they can be set up to use renewables whenever possible, relying on mains or gensets only for backup.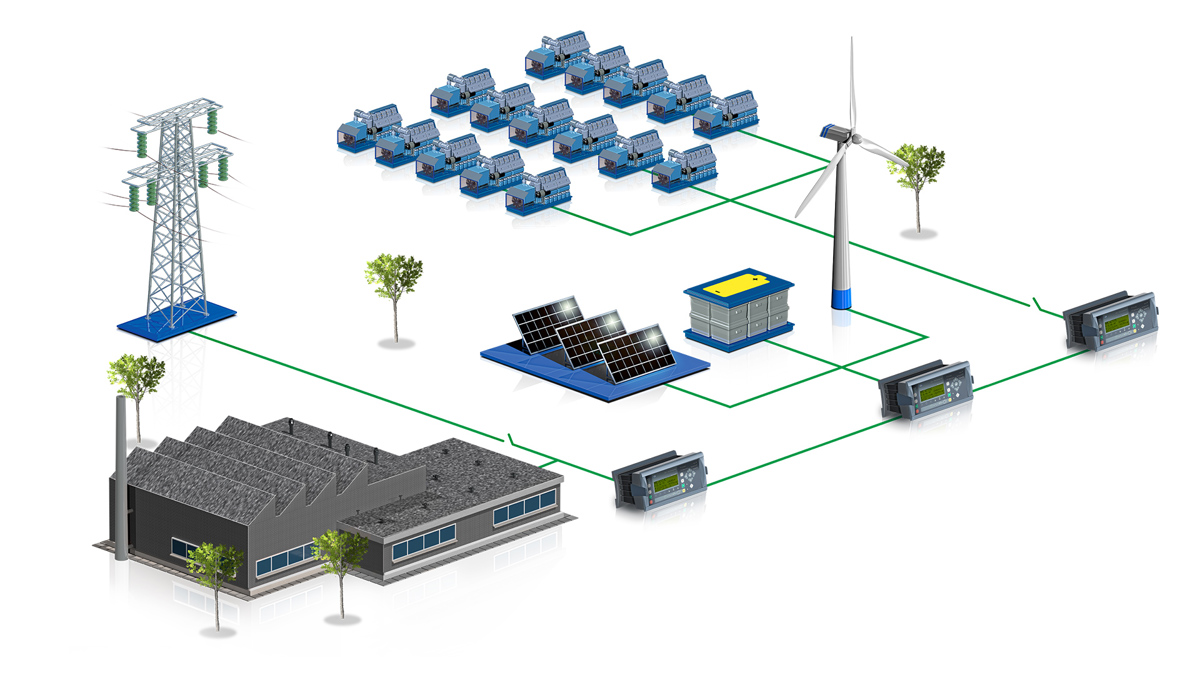 In a hybrid eco-system such as this one, the load demand can be covered using the mains, gensets, PV panels, a wind turbine, or a BESS. All power sources are managed by an intelligent PMS that ensures uptime and can be configured to prioritise renewables whenever possible.
How do you set up and control a hybrid eco-system?
With several different power sources and many possible operating scenarios, the control solution for a hybrid eco-system needs to be intelligent, quick-reacting, and flexible. In order to guarantee uninterrupted uptime, it must also be designed for resilience with full redundancy.
We recommend controlling hybrid eco-systems using an intelligent power management system (PMS) with interconnected controllers capable of handling all the different power sources, and of retaining system control even if a controller fails. When combined in an intelligent PMS, controllers exchange information about the current load demand and the available power from the various sources. They ensure that the load demand is met according to your requirements, for example by prioritising renewables, and they allow you to carry out other tasks such as running gensets at their optimal duty point.
Freedom to chart your own course
It is vital to select controllers that can quickly and easily configured for the specific application – and reconfigured on the fly without any downtime if you need to expand your system by adding more power sources. By selecting user-friendly and flexible controllers, you can make the transition to full hybrid power at your own pace, expanding or reconfiguring your hybrid eco-systems as needed. This means that getting started on the road to carbon neutrality is relatively easy: If you already have a reliable genset or mains-based power setup, you can expand it with one or more renewables and controllers.
With a reconfigurable, flexible, and intelligent PMS controlling your hybrid eco-system, you are free to chart your own course towards green data centre operations. For more details, read our whitepaper.
Links
Download our FREE whitepaper on achieving carbon neutrality with hybrid eco-systems
Blog: What exactly is power management?
Case study: See how a leading research centre uses DEIF controllers to manage storage and renewables
Case study: Leading colocation provider gets redundancy and reliability with DEIF solution