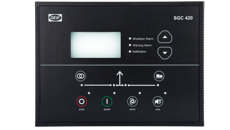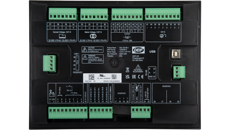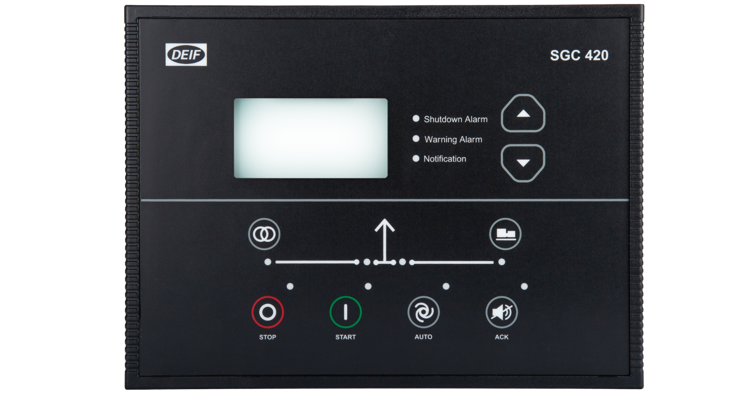 Specially designed to meet the needs of OEMs and genset packagers, the SGC 420 Mk II single genset controller contains all the functions you need to protect and control a genset, a genset breaker, and a mains breaker. It is compatible with a wide range of engines and can be configured for applications including engine drive, standalone genset control (off-grid/island mode), and Auto Mains Failure (AMF). With its battery charging and shelter temperature monitoring features, you can also use the SGC 420 Mk II for telecom base transceiver station (BTS) applications.
Designed to control and protect
With the SGC 420 Mk II, you get a wide range of control and protection features for engines and generators, including coolant temperature control, electrical monitoring, and grid voltage/frequency monitoring. The controller can automatically exercise the engine, and it can balance the running hours between two gensets. You can configure start sequences for engines with different dynamics, and the practical deep sleep function extends the battery life by suspending normal controller functions when the genset is off.
Flexible connection and communication options
The SGC 420 Mk II is a flexible controller that offers many options for your applications. It supports 1 and 5-ampere current transformers, and you can configure the controller for CAN bus and RS-485 Modbus communication. The controller has 9 digital inputs, 7 digital outputs, and 7 analogue inputs (RMI/4-20 mA/0-5 VDC) that you can also configure as digital inputs, and you can configure the analogue inputs for any function you require.
A world of configuration possibilities
The Smart Connect Mk II PC tool gives you easy access to a world of configuration options. Simply connect your PC using the USB port and customise the SGC 420 Mk II to your requirements. You can supervise and log live data and save it as a favourite data list for future use. You can calibrate sensor curves and configure up to 10 engine profiles. With the M-Logic functionality, you can design custom applications using predefined event and output lists (with logical and comparator rungs to define outputs, for example alarms). You can define on-screen texts in any language for both the unit LED and the Smart Connect Mk II tool itself. You can save your settings, back them up, and quickly propagate them to other controllers, and you can even compare your custom configuration with the factory defaults to identify changes, for example for troubleshooting purposes.
Easy control from the user interface
The backlit full-graphics LED display of the SGC 420 Mk II by default can show values and alarms in English, Chinese, and Spanish, and it can easily be adapted for other languages as described above. The user interface buttons offer easy control and configuration of the unit, including operating mode selection. The SGC 420 Mk II has three alarm indicators (showing shutdown and warning alarms plus notifications) plus convenient buttons for latching mains/genset contactors and acknowledging alarms.
Contact us

Anshul Alankar

Product Manager
Product videos
Tutorials
DEIF SGC 1xx: How to setup factory profiles v4
DEIF SGC1xx: Programming from display v4
DEIF SGC1xx Programming with SmartConnect v4
DEIF SGC1xx: Smart Flash v1