Streamlining hybrid and generator plant setup: DEIF's emulation mode simplifies plant design
Traditionally, calculating asset behavior and fine-tuning involve extensive trial and error. DEIF's Emulation Mode revolutionizes this. Engineers can virtually replicate asset behavior using only physical controllers, eliminating the need for the actual assets. You can drastically reduce the number of onsite tests needed, and emulation can help you carry out Factory Acceptance Tests, provide hands-on training, and develop convincing product demonstrations for sales purposes.
When designing and commissioning control solutions for power applications, testing is a very important step in order to ensure that everything works as expected. Onsite testing on live equipment is time-consuming and expensive, however, and there is a risk of damaging equipment such as gensets or switchgear in the process. While onsite testing is absolutely necessary, it therefore makes good sense to limit the number of such tests by using other testing methods.
Emulation is one such method. With emulation software, you can test the features of your control software in a controlled and safe environment from your desk, without any risk of damaging any equipment.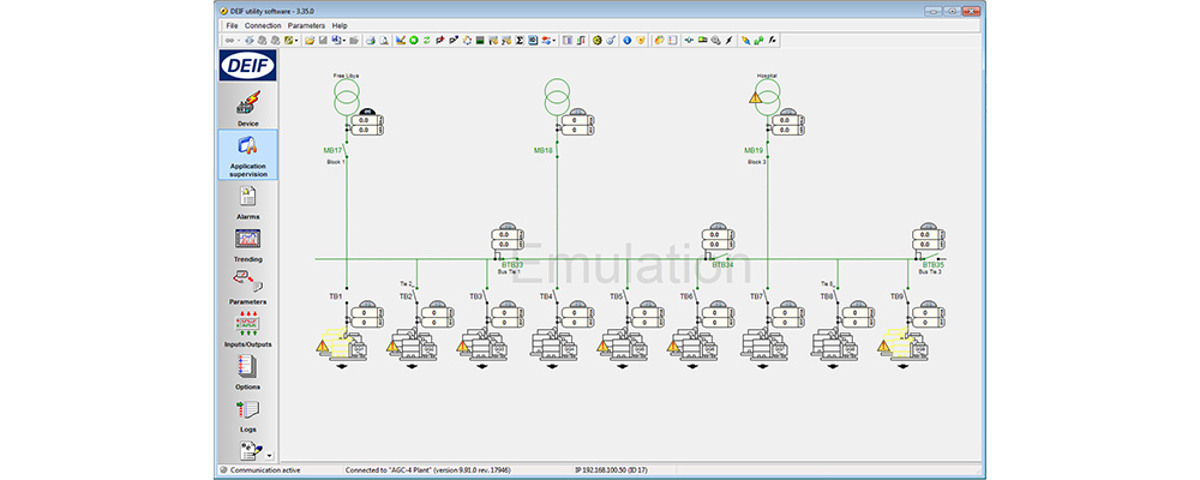 Emulation is not the same thing as computer simulation. With emulation, you are testing the actual controller software to see how it will react to situations such as overload or overvoltage, loss of grid power, or site-specific conditions such as sensor readouts or input signals on specific terminals. You get a realistic assessment of the actual workings of your solution allowing you to identify and resolve programming errors, and you can greatly reduce the number of onsite test runs needed with real power sources such as gensets.
How does emulation work?
With the right tools, carrying out emulation is relatively simple. Just download and install the relevant utility software on your PC, and then connect your PC to the controller, for example using USB, RS-485 or TCP/IP connections. You can now set up your application in the utility software and test all necessary scenarios. Which features you can test depends on the utility software and on the capabilities of the controller you are testing. In every case, however, there is no need for hardware such as gensets or grid connections.
Some manufacturers such as DEIF also offer standalone emulation solution packages designed to test power management features before installation and commissioning.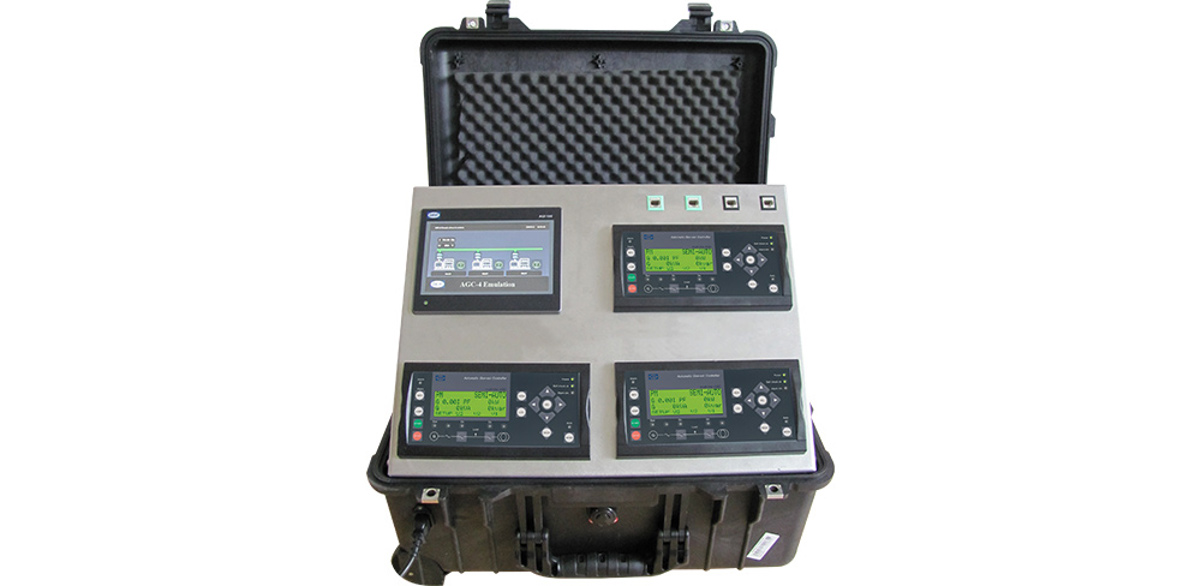 Uses of emulation
Emulation is an efficient and time-saving way of testing your controller software, and it can be used in many different scenarios. Here are a few examples:
In any development project, emulation is a useful way of testing that control software and sequences perform as expected. As you do not need to test everything in a live environment, you can save time on project engineering. Emulation is particularly useful on retrofit projects: you can continue running existing applications while testing the new setup in your office.
Emulation can be included in a Factory Acceptance Test (FAT), confirming that a given solution performs as expected in a factory or laboratory environment before going to the next phase: installation, Site Acceptance Test (SAT), and commissioning.
When preparing to upgrade control solutions, you can use emulation for training purposes, educating your staff on the new control solution and allowing them to test the software to the limits without any risk of damaging equipment. This builds staff confidence in your new solution and can help you save time when making the upgrade.
Emulation is a useful sales tool, allowing you to demonstrate in practice how your solution works. You can agree on the desired functionality and scope with the customer early in the sales phase, increasing your chances of developing a solution that fits the customer's requirements, and wasting little or no time in the process. A convincing demonstration can increase your chances of getting the order, and if you do get it, your project engineering is already halfway completed.
At DEIF, we offer emulation solutions for many different products. Contact us to learn more about our emulation tools and to get more information on how they can help you increase efficiency in your testing.
​
Read more about the free DEIF USW-3 emulation tool 
Read more about the DEIF emulation solution for land power and marine & offshore applications